his website is provided as an introduction to those who are interested in the sport, either as an end to itself or with the intent of becoming involved, and celebrates the falconry lifestyle. It was created and is maintained by Master Falconer Lydia Ash with a great deal of input from Steve Layman and Dr. Tom Ray. Other valued contributors include Salman Ali, Tim Aigne, Geoff Hirschi, Bridget Rocheford, Ron Kearny, Seth Layman, Al Ingram, Doug Pineo, Richard and Becky Brunotte, Marten Benetar, Kory Koch, Griff Morgan-Jones, Ken Hooke, Kazuhiko Sugisaki, Gaylen Gerrish, Bob Beagan, W.J. Miller, Baine Carruthers, Brian Kellogg, Derry Argue, Will Lake, David Maritz, Dr. David J. Kersting DVM, Dr. Carmen Lindheimer DVM, Dr. Mike Hooper, Dr. Lane Preston DVM, Dr Melissa Hill DVM, Jayme Perlman, Shirley Needham, Linda Huff, Cody Fields, Justin Tanner, Mike Todd, Richard Jones, Dion Thomson, Steve Huy, Jim Rogers, Natalia Grechanaya, Johann Hanekom, Marra Apgar, Cindy Alverson, Charles Redding, Jason Caldwell, Jo Turley, Natasha Leong, Valerie Baldwin, Carla Wakeman, Dion Thomson, Steve Dickson, Bill Rhinehart, Johann Hanekom, Chris Maack and the Bird Treatment and Learning Center, Gary Hampton, Bill Rhinehart, Linda and Dr. Joseph Chalk, San Bernardino County Raptor Rehab Center, Karen "Kitty" Carroll, Hubert Quade, Lee Slikkers, Lt. Col. William Muldoon and the cadets of the US Air Force Academy falconry program. Raptor electrocution expert Rick Harness also must be thanked for reviewing the section on raptor electrocutions. Veterinarian and author Dr. David J. Kersting, D.V.M must be thanked for reviewing the section on mutes. Russian translations are now available on the web provided by Natalia Grechanaya. The images and text is not permitted to be used without the explicit permission of myself or the original author/photographer as per credited.

As well as being a Master Falconer, licensed rehabilitator, and an accomplished rider, Lydia has a B.Sc. degree in Biology, works in the software industry, is a frequent corporate speaker, and is the author of The Web Testing Companion. She is also a recognized fiction author. Lydia and her ever tolerant husband Chris can no longer claim to be raising their Small Munsterlander puppy, who is over thirteen years old and tolerating the "pup" that has joined the team is over four years old.

Lydia has been the Northwest Director on the board of the non-profit Washington Falconers Association, a member of the North American Falconers Association, and a member of the International Wildlife Rehabilitation Council. She also is exam and lab certified by the IWRC through their Basic Wildlife Rehabilitation course.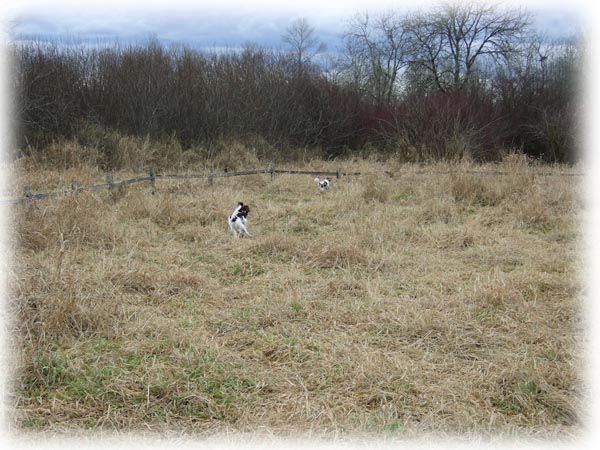 Ogden and Roark running through the fields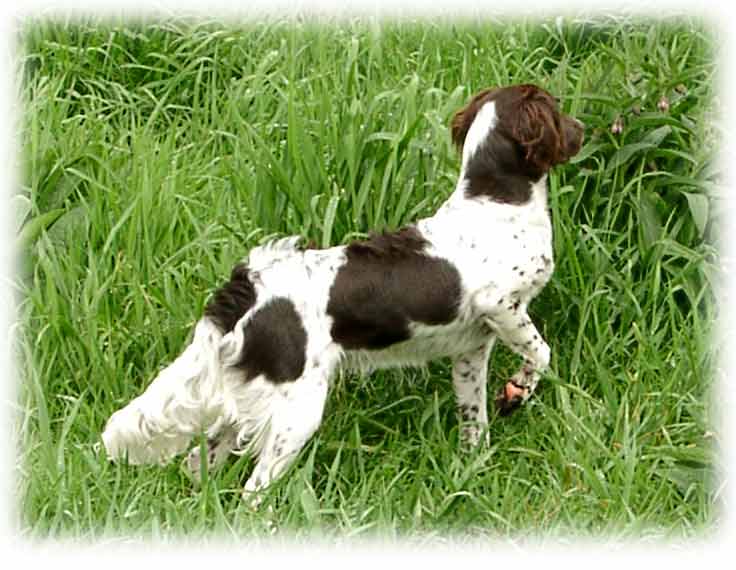 Roark
A bird and her dog: 1.3 meg
All images and text Copyright © 2004 - 2020 - Lydia Ash